An association combining industry, research, training and territories
An association combining industry, research, training and territories
A board of directors
The strength of Cosmetic Valley, an association under the 1901 law, is based on a board of directors made up of two colleges:
A business college (60% VSE/SME, 20% Groups and 20% ETI)
A research, higher education and training college
The administrators of Cosmetic Valley are:
From all trades in the value chain

Spread over all French regions and overseas territories

Represented equally by men and women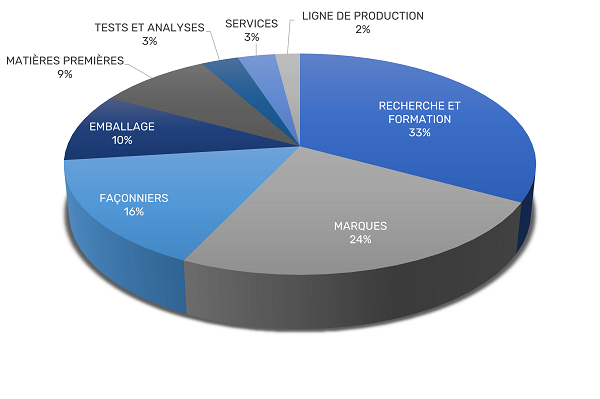 A technical committee that contributes to the growth of the sector in Cosmetic Valley's partner territories. It brings together representatives of local authorities.
A Scientific Expertise Committee which defines the scientific policy and evaluates the research projects submitted for labelling. It brings together representatives of member research organisations.
The members of the office
| Name | Company | Function |
| --- | --- | --- |
| Mr. Marc-Antoine JAMET | LVMH | President |
| Mrs Sylvie CHOPIN | GILBERT LABORATORIES | Deputy Vice-President |
| Ms. Brigitte CLOSS-GONTHIER | SILAB | Deputy Vice-President |
| Mr. Christian COMBEAU | PUIG FRANCE | Deputy Vice-President |
| Mrs. Marie-France ZUMOFEN | ISIPCA | Deputy Vice-President |
| Mr. Pascal BONNET | UNIVERSITY OF ORLEANS | Deputy Vice-President |
| Mr. Florent YVERGNAUX | BIOEUROPE | Vice-president |
| Mr. Hervé NAVELLOU | L'OREAL | Vice-president |
| Ms Nathalie RENAUDEAU | LVMH RESEARCH | Vice-president |
| Mr Ben SUZUKI | SHISEIDO | Vice-president |
| Mr. Simon DUFEIGNEUX | SISLEY | Vice-president |
| Mr Thomas RIOU | VERESCENCE | Vice-president |
| Ms Marie COTE | CNRS | Vice-president |
| Mr Olivier ROMAIN | UNIVERSITY CY CERGIS PARIS | Vice-president |
| Mr Vincent RICHARD | UNIVERSITY OF ROUEN | Vice-president |
| Mrs. Selma JOSSO | UNIVERSITY OF TOURS | Vice-president |
| Mr Elian LATI | BIO-EC LABORATORY | Treasurer |
| Mr. Jean-Yves BERTHON | GREENTECH | Adjunct treasurer |
| Mr Daniel DE ROSA | IPACK | Secretary |
| Mr. Pierre GARCON | ECO-MUNDO | Assistant Secretary |
Administrators
GIVAUDAN - CHANEL PERFUMS BEAUTY - CAUDALIE - GUERLAIN - JOHNSON & JOHNSON - NAO LABORATORIES - BIOGALENYS - GREENPHARMA - TEBU-BIO INTERTEK - ALBAN MULLER INTERNATIONAL - LTE - MS BEAUTILAB - BERKEM - LÉA NATURE - THEPENIER PHARMA & COSMETICS - DECOR WORLD SERVICES - STOELZLE - ANJAC - APTAR - CARTONNERIE OUDIN - TECH NATURE - CAPSUM - BIOSTRATEGE - OXIPROTEOMICS - VMI - OUATE - ROCHER GROUP - LE HAVRE NORMANDY UNIVERSITY - SYNCHROTRON SOLEIL - SCHOOL OF INDUSTRIAL BIOLOGY - CESI - IMT GROUP - INSA CENTER VAL DE LOIRE - SORBONNE UNIVERSITY PARIS NORTH - UNIVERSITY OF GUIANA - UNIVERSITY OF BORDEAUX UNIVERSITY COTE D'AZUR
The founding members
| | |
| --- | --- |
| | |
| Jean-Luc ANSEL | Jean-Paul GUERLAIN |